"Wreck on the Highway" video premiere on Backstreets
SPRINGSTEEN & JOHN WESLEY HARDING COMING TO VINYL FOR RSD
"Wreck on the Highway" video premiere & signed LP giveaway from Backstreets 
Bruce Springsteen's Greatest Hits isn't the only Boss entry for Record Store Day 2018. For this Saturday's annual celebration of (mostly) wax, Omnivore Recordingsis releasing an album of covers by John Wesley Harding (AKA Wesley Stace) that features not only two Springsteen songs, but also Bruce Springsteen himself.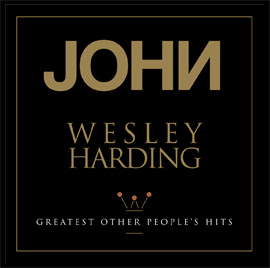 With typical wit, the album title alone suggests it's a good companion piece for Springsteen's RSD release. Bruce has Greatest Hits? Wes has Greatest Other People's Hits. Along with songs written by the likes of George Harrison, Roky Erickson, Madonna, Pete Seeger, and Serge Gainsbourg, Wes's first covers collection includes his takes on two songs from The River, "Jackson Cage" and "Wreck on the Highway."
These are previously released recordings — on CD, most easily obtained as bonus tracks on Harding's Awake album — but this is their first appearance on vinyl.
"Wreck on the Highway" is a live performance and a duet with Springsteen. It was recorded at McCabe's Guitar Shop in Santa Monica in 1994, when Bruce made a surprise appearance to join his friend on guitar and harmony vocals. The pair have appeared together a few times over the years: a year after the McCabe's show, Wes was a very rare opening act for Bruce, two nights in Berkeley at the beginning of the Tom Joad tour; they played together again at the 2010 WAMFEST, as part of a unique event along with poet Robert Pinsky. But that June '94 night at McCabe's was their first team-up. Over the years, we've heard tell that video footage exists… and with thanks to Ominvore Recordings, we're very pleased to premiere it.
Now, what's better than that on your turntable? How about a copy signed by John Wesley Harding himself? He's kindly autographed 10 copies of the record for us to give away to Backstreets readers. We'll just need you to answer one simple question:
How many cover songs are on Springsteen's last studio album, High Hopes?
To enter to win one of ten signed LPs, send an email to contest@backstreets.comwith your answer in the subject field, and your name and shipping address in the body of the email. Must be formatted that way to be a valid entry; one entry per email address, please. From those with the correct answer, we'll do a random drawing to select the ten lucky people who get the goods. Send your email by Tuesday, April 24, at noon Eastern; we'll draw ten names that afternoon and notify the winners!
And of course, visit your local mom & pops for Record Store Day this Saturday, April 21 — to seek out Greatest Hits, Greatest Other People's Hits, or both.
– April 17, 2018 – photograph by Gary Glade via mccabes.com